Artwork Guidelines
We have prepared the following guide to assist you with your electronic file preparation and submission. If you have a specific problem that is not covered in this guide, or have other questions, please feel free to contact us.
Improperly prepared files can cause delays in printing.
Quick Check for Designers
Artwork supplied as a high resolution print ready pdf
2 Sided Products: supply as 2-page pdf with page 1 being the front of the carousel-item and page 2 being the back
Images: 300 dpi CMYK
All artwork CMYK (excluding NCR Books)
Margin: 3mm minimum on all sides
Bleed: 3mm all sides with crop marks

Make sure you've attached a proof detailing any extra finishing required. (size of drilled holes, placement of scoring, placement of numbering, shape of die/corners, etc)
Note: For best results on large areas of black, use rich black 40:40:40:100. Black text should be 100% black only.
Digital Proofs
We provide PDF files as electronic soft proofs. These digital proofs intend to show you the layout and design elements of your job, but cannot be a guarantee of colour accuracy. If colour accuracy is of extreme importance to you, please ask for a hard copy proof (may incur additional fees).
Guidelines for artwork created using Microsoft Office Products
Publisher, Word, Excel & Powerpoint are software programs designed for use in the office and they work card card-body in that environment. However, they are not really suitable for creating documents for commercial printing.
If you are using any of these programs to create your artwork, it will not be considered to be print ready and will still require some tweaking to make it suitable for commercial printing. Unfortunately Publisher & Powerpoint are NOT suitable formats.
Please read and follow the guidelines below when supplying your own DIY Artwork for printing as there are many variables to consider when designing artwork for printing.
If you are in doubt, please contact us.
File Formats
Whilst we prefer artwork supplied as PDF files, we also accept Microsoft office files if you are unable to save your artwork as a high resolution pdf (this will incur additional artwork/conversion fees).
Microsoft files accepted include:
Word - saved as .doc or docx
Excel - saved as .xls or .xlsx
Artwork Size
Please set up one page for each side of the item.
For example, a business card printed on both sides will need to be set up as 2 pages - with page 1 being the front of the carousel-item and page 2 being the back.
Make sure that you set up the correct page size.
You will most likely need to create a custom page size. This will be the finished size of your carousel-item plus 3mm bleed on all sides.
For example, a business card 90x55mm will need to be set up at a custom size of 96x61mm. You will need to set your inside page margins to 6mm on all sides. This will allow for 3mm bleed which will be cut off after printing and it will provide you with a safe text area with a 3mm margin (see diagram below).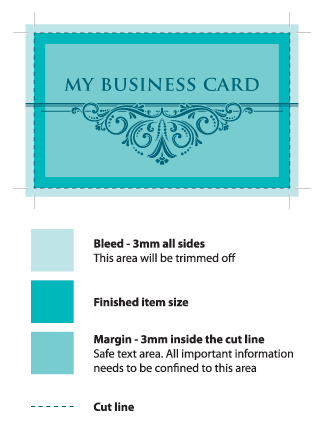 Images
Images need to be 300 dpi to meet commerical printing standards. Images with a resolution of less than 250 dpi may appear pixilated, blocky or blurry when printed even if they appear clear and sharp on screen.
Images taken from the internet often have a low resolution of only 72dpi and will very rarely print very card card-body. Please take care to use only high quality images.
Colour
Offset printing uses a CMYK colour format (Cyan, Magenta, Yellow and Black). The colours on your screen are RGB colours (Red, Green, Blue). Some RGB colours that appear on your screen can not be printed in CMYK.
Please note that the screen colours used in Microsoft Office (RGB) may appear duller or lacking in contrast when printed.
Fonts
If you are unable to save your artwork to pdf you will need to make sure you "embed" your fonts.
In Microsoft Word and Powerpoint, go to the menu "Tools > Options > Save tab and select "Embed TrueTypeFonts".
This option is available in Microsoft Publisher under the menu "Tools > Commercial Printing Tools > Fonts".
Guides and Crop Marks
If you have used any of the Microsoft Office programs to create your artwork, please do not add any guides, marks, or crop marks in your artwork. If you do include printable guidelines on your artwork, then they may show up in your final print.
Docket Books, Purchase Order Books & Tax Invoice Bks (NCR Books)
If you are creating the artwork for any of these books please open the appropriate template (pdf) and read carefully as it will provide you with a lot of information about how to set up your file.
Click here for a quick view of sizes and specifications.